How to post our quilts and bags.
When someone requests a quilt or a laundry bag they have to supply their deployed postal address which sometimes includes an AFPO Number or alternately they will send us an Aussie address to post to.
If using an AFPO address it will look something like this:
CPL Wanda Quilt 8765432
TG 3456
AFPO XX (relevant number will be included)
ADF
Sydney NSW 2890
Addresses like this with an AFPO number and ADF Sydney NSW 2890 are for sailors, soldiers and aviators on deployment overseas.  Postage to them is free as long as your parcel is 2kg or less.
All these parcels are sent to the Sydney address and are sorted and dispatched overseas from there. Using this address enables us to post direct to the serving member.
We used to buy a Bx2 box from Australia Post.
However, Australia Post has decided to discontinue their Bx2 boxes so please check the Alternative Packaging Options to see what the current alternatives are.
Each box should have a green customs form on it as long as your box is under 2kg.
I put this in the bottom left corner. To fill out the form I write "Linen" for contents as I do not believe it is wise to advertise if you are sending a quilt. I do the same for laundry bags. Also add in the details of any goodies you are sending but so as not to spoil the surprise you can write things like "prepackage foods" and "beverage sachets", "stationery", "toiletries".
Once again it is not wise to advertise the real value of our parcels so for quilts I write $30 and for a laundry bag I write $10. I know our quilts are worth more than that but we can't claim if the parcel does not arrive so what is the point of advertising their value?
In the top left-hand corner of the box in big letters that will stand out write:
AUSSIE HERO QUILTS
and underneath write the blog details in smaller letters
aussieheroquilts.org.au
For the return address it is suggested that you put the Aussie Heroes postal address for the sake of cautious security. That address is:
PO Box 248
Cherrybrook NSW 2126
Please ensure that you include a letter in your parcel and include your postal address and email address on that. It can be expensive for us to forward on gifts that are sent to the PO Box in your name so your cooperation is really appreciated.
I have found that it is best to tape the parcels with the tape going all the way around and coming back and sticking it to itself.
In some weather conditions I have found that the tape can come unstuck if it is just stuck to the parcel. This can happen when it is sitting on the table in my family room so I hate to think what can happen in the extremes of climate these parcels may be exposed to. Better safe than sorry I think.
If you are only posting a laundry bag you may still use a box and fill it with goodies to pad it out or you can use a padded postpack. I think they are stronger than the Tuff Bags.
The address will be given to you once you are ready to post your item.
Most important – make sure you weigh your boxes or, when you get the Post Office, you may be charged the normal cost for a parcel to be posted to Sydney depending on it's weight and place of origin (if over 2kg).
And don't forget to include a friendly note with your name and address so that your recipient can say thank you. I have been told repeatedly how much these accompanying letters are appreciated as the guys and girls enjoy learning a little about the people that have gone to the effort of making something for them. Tell them who you are and why you choose to sew for Aussie Heroes. I always add my email address as snail mail takes SO LONG to get back here and most of the guys and gals have some sort of internet access. Having said that, I know some mothers who don't hear from their sons very regularly so don't expect too much!
Alternative packaging options
As some of you have already discovered, Australia Post has discontinued the BX2 box that has been used for many years to send care packages to our defence members on deployment overseas. Unfortunately this change is here to stay and so we have to find a way to work around it.
So how do things stand for us?
Firstly this is the BX2 box. The size of the box is 310mm x 230mm x 105mm.
There is no equivalent sized box available at Australia Post any more. The two new boxes are as follows. This is the medium sized box.
Its dimensions are 240mm x 190mm x 120mm (as shown below). It is 20% smaller than the Bx2 so no good for quilts.
If you are sending a care package or a laundry bag to an AFPO address you can use one of these boxes and pack it up to 2kg in weight and send it off.
Below is the other box, this is the large box (390mm x 280mm x 140mm) and, by volume, this is actually too large to use. This box will attract a fee regardless of the weight because it is too big by volume.
For interests sake, these are the dimensions.
So, what can we use??
We have options. Believe it or not, you can actually buy plain BXP2 boxes (a plain version of the BX2) from Australia Post online (click here to view online). I have even been assured that you will be able to buy them from Post Offices but the one that I spoke to today will not be getting them in. If you buy them online you can buy in packs of 20 for $34.95 (includes free delivery).
If you have access to an Officeworks you can sometimes buy boxes with the same dimensions as BX2 from them (click here to view online). You can purchase one box for $1.85 and you can obtain a discount if you purchase 4 or more ($1.65 each or $33.00 for 20 (cheaper than AusPost but this would not include postage of the boxes to you or us)).
You can also buy similar sized boxes at Bunnings (click here to view online). They are available as singles ($1.82) which equates to $36.40 for 20. However, stock availability may vary from shop to shop.
If you do not have access to Officeworks or Bunnings, but you can shop online then you can find a number of suppliers on ebay who stock boxes of similar size to the BX2. There are plenty of suppliers. I am not going to recommend one over the other but I will say that I have been using a number of these suppliers over the years and have not been let down by any of them. The thinner white boxes are just fine. If you tape them well, you won't have a problem.
If you don't have access to an Officeworks or Bunnings and you don't want to buy your boxes online then the only suggestion I can make is that you use one of the following…a PADDED POST PACK.
Please DO NOT use the normal TUFF BAGS. They are not that strong and they tend to fall apart. Some of the ones that arrive here are not in great condition by the time that I receive them.
Even if you use a PADDED POST BAG you will need to tape it up. Can I please request that you purchase a roll of Duct Tape or strong clear tape and do not rely on the Post Office to tape the parcel for you. You need to tape to reinforce the package, not just to seal it.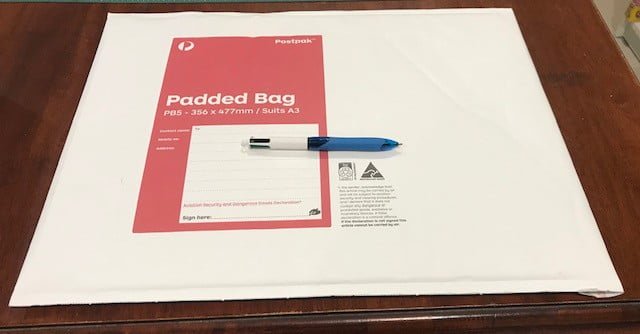 This is the largest size as the smaller sizes will not fit the quilt. Just fold it like you would normally to fit into a Bx2 Box and then place it inside.
Place your quilt inside the bag and fold back the flap as far as you can so that the quilt is not floating around loose inside the bag. The bag needs to be firm around it.

The flap will cover the return address but that can be written on anywhere.

Then you NEED to tape the bag up. Please invest in a roll of strong clear tape or duct tape of some sort. If you use clear tape you can tape over the address, never a bad idea, especially if your bag gets wet which is always a possibility. I tape in both directions, three times, all the way around the bag bringing the tape back on to itself.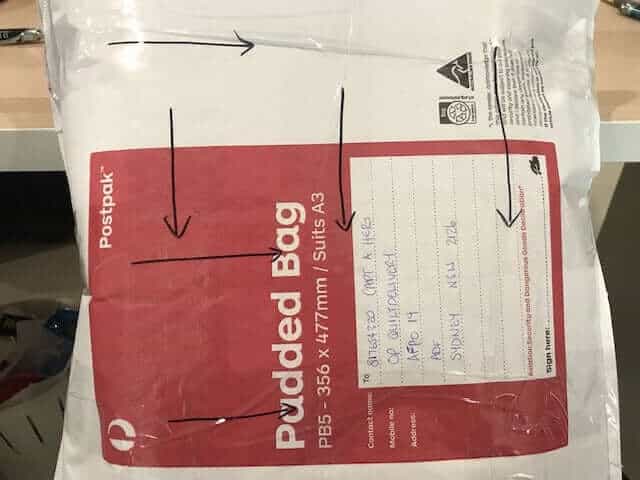 Make sure you tape up the zipper bit that you are supposed to use to open the bag. This is a weak point and trust me, the guys and girls will not have a problem getting their parcel open and they will be very relieved to see it arrive safe and sound.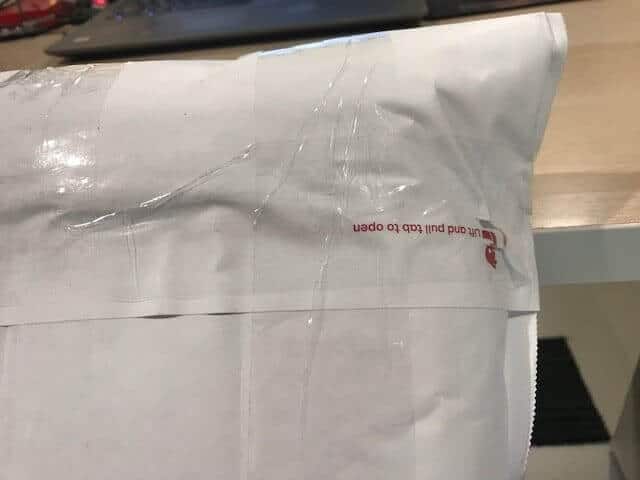 Please, please, please do not rely on Australia Post staff to tape the boxes up for you. It is so much safer to do it yourself and to make sure that it is done properly.
If anything changes in this regard I will let you know but for now, these are the best options I can come up with.
So, that is all for now. Till next time…..keep spreading the word and happy stitching!
Jan-Maree xx